OUR OFFERS
8 Complementary solutions and services
CORRESPONDENT BANKING
Need some advices and solutions to be implemented in order to satisfy the requirements of regulators on correspondence transactions in your bank ?
SMART SOURCING
Optimize your costs in a secure way! Do you need to outsource your activities safely?
BMR GRADE TRANSITION
Prepare the BMR reform and anticipate its multiple impacts on your business! Do your project teams need support on regulatory projects related to these grades ?
Ensure the security of your systems and data! Do you need help to anticipate and protect yourself from cyber attacks?

PRESENTATION
We partner your ambitions
      DEVLHON Consulting is an independent consultancy firm specialized in Banking and Financial Services. We focus both on defining strategic objectives and implementing concrete results.
Founded in 2010 by "Big Four" partners (ex KPMG), we are organized in partnership. As h5wholly independent firm, we are fully objective about clients' issues and related recommendations combining experience, in-depth business knowledge and robust methodologies.
Our firm is particularly focused on emerging markets and on distribution networks of financial services companies – from front to back issues. We are organized to bring maximum added value: DEVLHON Consulting differentiates itself by its unique modus operandi and its entrepreneurial spirit.
In this respect, DEVLHON Consulting teams are recognized by their clients for their involvement, their highly experienced consultants and industry-specific expertise bringing a combination of teamwork and real-world experience to bear on every project.

OUR VALUES
DEVLHON Consulting internationally in a few figures
We are at the heart of the transformation of European, African and emerging countries' actors.
Top 10
of  European banks
Top 3
African local banks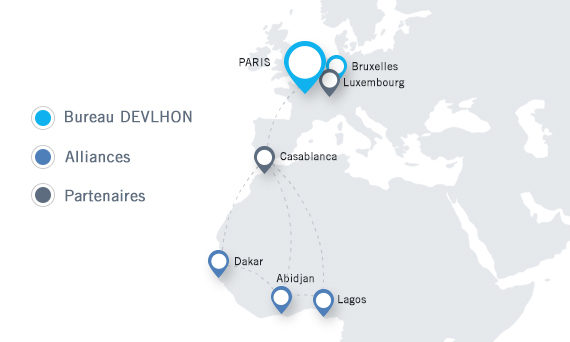 SUCCESS STORIES